Message from the president
Message from the president
3rd medium-term management plan

Contribute to society through sincerity
and sound management to be a
trusted member of the community.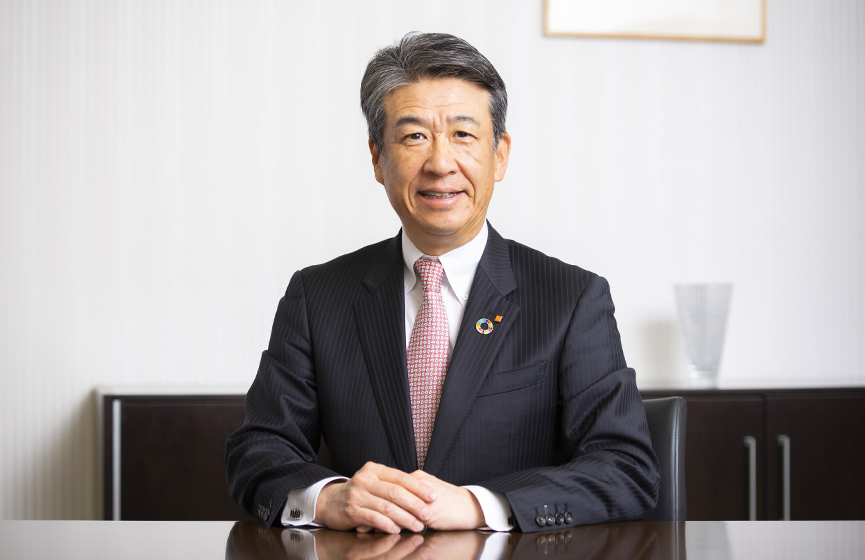 Greetings to our valued stakeholders.
We have begun the final year of activities under Nichiden's medium-term management plan: "New Dedication 2023: Making New Contributions."

This medium-term management plan comprises three market strategies: collaborate with partners; expand business in growth markets, and; strategize by region. We will implement these strategies together with customers in order to achieve sustainable growth.
Over the years, we have collaborated with customers to solve users' problems and thus raise the value we provide, which constitutes the pillar of our existence as a company. We have pursued this by leveraging our strength in logistics and tapping into new markets for our products, in turn offering these markets our services as well.
Under our third medium-term management plan, we are expanding functions such as procurement management, IoT consulting, processing, and engineering. In these areas, we will match the value we provide with trading company functions honed over the years, as well as launch new subscription services for the first time.
Furthermore, in our quest to boost our business, we will conduct sales activities geared to solving increasingly diverse problems and pursue customer-based and region-based strategies with an eye to growth markets.
We will also meet customer expectations by developing new products and tapping into new markets to embody our new business models, providing more added value through efforts including mergers and acquisitions, and having relevant company divisions cooperate in achieving the DX and the SDGs.

I look forward to your continued understanding and support as we collaborate in realizing New Dedication 2023.
April 1, 2023
Toshikazu Fuke, Representative Director and President Executive Officer