Greetings and sincerest thanks to all of Nichiden's investors for your faithful support.
Summary of Nichiden's business
performance for the 72nd term*
*The 72nd term is the period from April 1, 2022 until March 31, 2023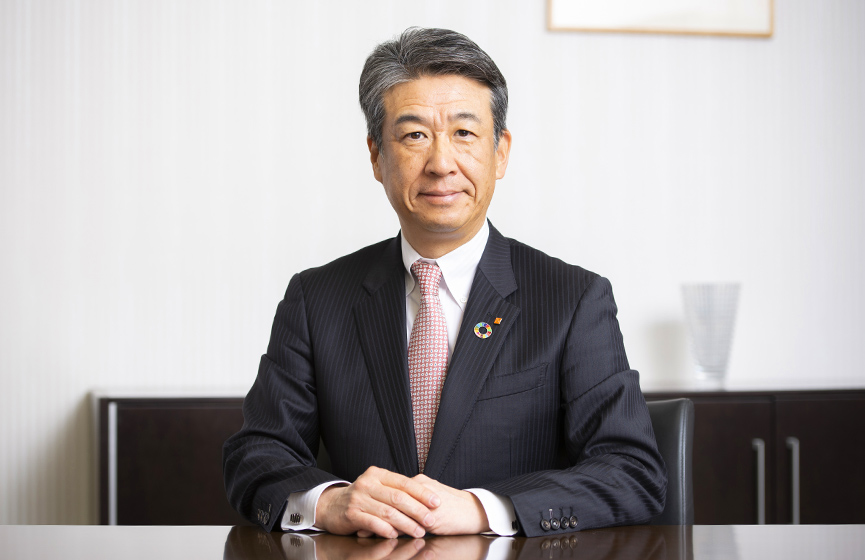 Looking at the Japanese economy for the consolidated accounting period under review, an economic slowdown overseas placed even more negative pressure on exports. However, thanks to favorable conditions such as higher wages, price pass-throughs, and an increase in tourism to Japan, a gradual recovery, especially in domestic demand, could be seen.
The machinery and equipment-related industries in which the Nichiden Group operates continued to show solid performance. Previous problems in parts procurement appear to have been resolved, and production has ramped up in manufacturing equipment, electrical/ICT equipment, and automobiles. The perceived end of the pandemic spurred robust investment in areas such as decarbonization and digitalization.
Against this background, we steadily implemented the planned activities of the second year of our third medium-term management plan, called

: Making New Contributions. Under this plan, we are striving to realize continuous growth for the company and sustainable growth for society.
For example, towards resolving issues faced by the manufacturing industry, we aggressively offered solutions for streamlining parts procurement, production management and other areas by leveraging our strength in logistics functions. With the return of in-person trade shows that had been put off due to the pandemic, we took part in numerous events in Japan in 2022. At the FOOMA Japan 2022 International Food Machinery & Technology Exhibition in June, our theme was "fast, smart solutions for food production." We also took part in new trade shows like the Infection Prevention Expo in October and the International Fermentation and Brewing Food Industry Expo in November.
We also returned with Nichiden-sponsored events in order to showcase our range of solutions. MEKASYS exhibitions were held in Matsuyama, Nagaoka, Okayama, and other locations; and we held our Carbon Neutral Solutions Exhibition in Nagoya as a unique new platform for promoting Nichiden.
Regarding our facilities, in September 2022 we completed construction on our Higashiosaka building, which had been undergoing improvement to streamline operations. That same month, our Yokaichi Branch moved to a new and more spacious building. In January 2023, the Komaki Sales Office also moved to a new location.
As a result of these events and efforts, we enjoyed an increase in both sales and profits for the consolidated accounting period under review. Specifically, net sales were 131.609 billion yen (a 6.2% year-on-year increase), operating profit was 6.287 billion yen (a 14.3% year-on-year increase), ordinary profit was 6.756 billion yen (an 11.1% year-on-year increase), and net profit attributable to owners of parent was 4.967 billion yen (a 17.0% year-on-year increase).
On behalf of everyone at Nichiden, I'd like to express my sincere gratitude to all our stakeholders for your continued support and encouragement.
Toshikazu Fuke, Representative Director and President Executive Officer