As part of our efforts to protect the environment, Nichiden holds cleanups of public spaces and areas around our offices. In these activities, we value communication with local residents as we strive to maintain beautiful environments.
Clean Active Nichiden activities
On July 8, 2017, we held a Clean Active Nichiden event in Hattori Ryokuchi Park in Toyonaka, Osaka. Taking part were 87 employees—24 from the East Block, 17 from the Central Block, and 46 from the West Block. The volunteers picked up litter to help beautify the park.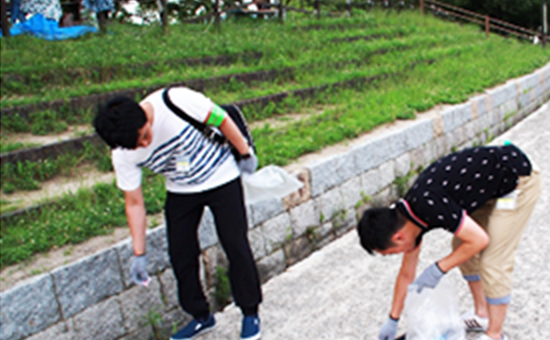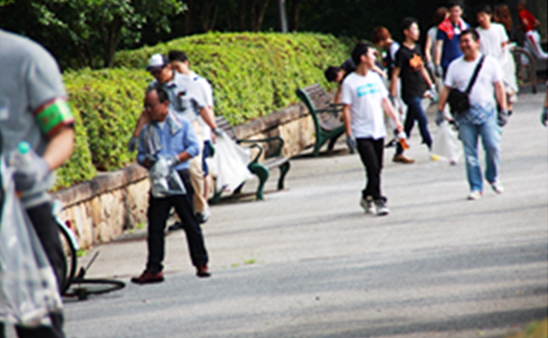 Joint forestation project, commemorating our 60th anniversary
On July 15, 2011, Nichiden signed on to the Forest Matching Project. This project enables interested companies to make "forestry agreements" with local municipalities. It is run by the Green Maintenance Division of the Kagawa Prefectural Government. The goal of the project is to preserve woodlands, prevent mountain disasters, and mitigate global warming. We signed on as part of our 60th anniversary celebrations. Over a five-year period starting in November 2011, we created the Nichiden no Mori forest on 1.86 hectares of land in Miki, Kagawa Prefecture. The location is near the hometown of our founder Toshikichi Nishiki. Here, we planted zelkova and sawtooth oak trees, thinned the forest, and pruned the trees. The forest serves as a place for employee volunteer and recreational activities. Employees and locals come here to play their part in curbing global warming. Throughout the company, we will remain active in protecting the environment.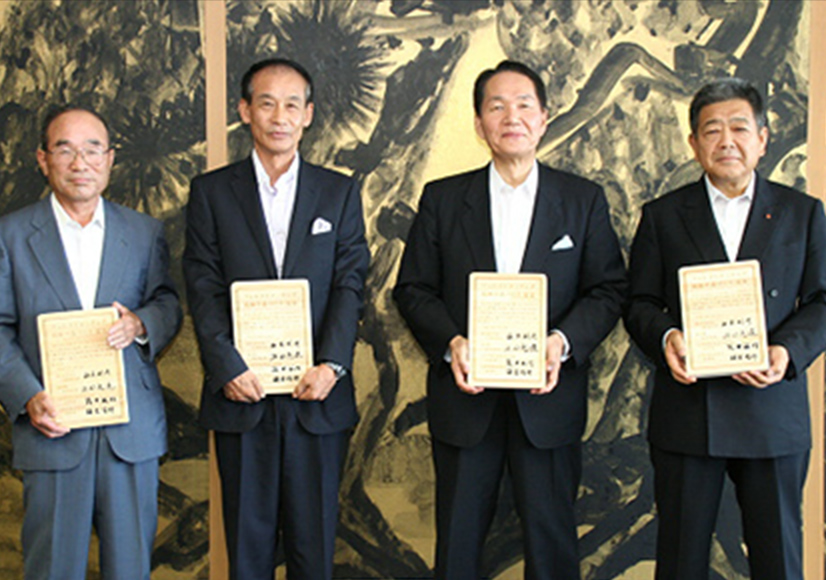 From left: Yasuo Kamakura, Miki Town
Kamiyama District Assembly Chairman;
Toshiyuki Tsutsui, Miki Town Mayor;
Keizo Hamada, Kagawa Governor;
Toshihiko Nishiki, Nichiden Chairman
Nichiden no Mori activities
We held the 10th Nichiden no Mori event on April 9, 2016. More than 70 volunteers took part in forestation activities. The participants came from our head office, the West Logistics Center, the Techno Center, and sales offices (Higashi-osaka, Kita-osaka, Shiga, Himeji, Okayama, Shikoku, Toyohashi, Fukuyama, and Hiroshima). A number of new recruits also took part. Blessed with fine weather, we planted oak saplings and cleaned up the surrounding area. Staff from local governments and the forestry cooperative were on hand to guide us. Despite the challenging hilly terrain, we managed to reach our tree-planting target.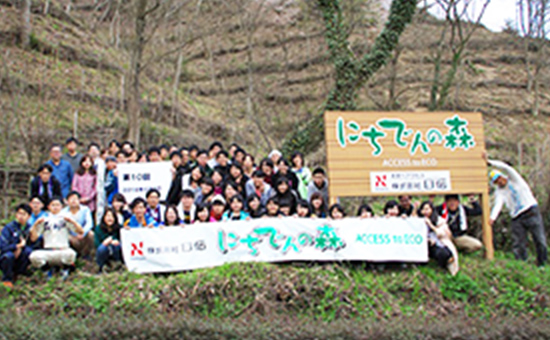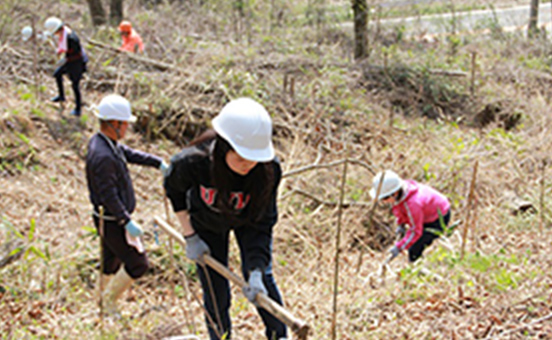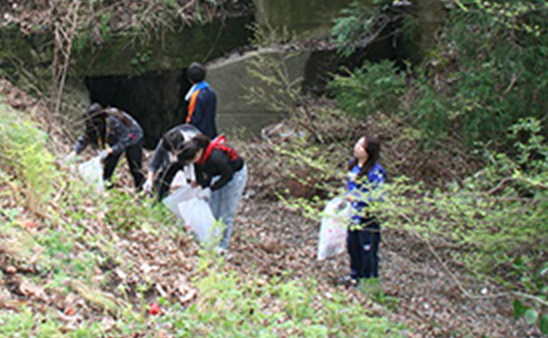 Nichiden no Mori activity record